Skolkovo Institute of Science and Technology (Skoltech) and The German Aerospace Center (DLR) signed on 13 June 2016 an agreement to strengthen scientific cooperation with each other.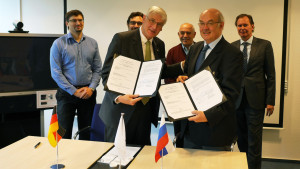 The signing ceremony was attended by Prof. Rupert Gerzer, Skoltech provost and director of the Space Center, and director emeritus of the DLR-Institut on aerospace medicine, Prof. Alessandro Golkar, Interim Director of the Space Center, and Prof. Dzmitry Tsetserukou, head of Skoltech's robotics lab and Adjunct Professor Evgeny Nikolaev. The German side was represented by Prof. Dr. Pascale Ehrenfreund, chairman of DLR and DLR Space Management Board Prof. Dr. Hansjörg Dittus.
The cooperation extends over a wide range of research fields of material research on life sciences to climate research, space law and planetary research. Intended are the planning and implementation of joint scientific projects, but if possible, exchange programs for scientists, students and doctoral candidates. The Framework Agreement also enables the exchange of scientific data and the organization of joint symposia and workshops.
According to DLR Space Board Prof. Hansjörg Dittus "Both institutions will benefit from the cooperation in space research, therefore, it is important to create conditions that promote the development of joint projects of the two international partners." DLR Chairman Prof. Pascale Ehrenfreund said that the "Memorandum of Understanding" was signed "In order for the cooperation of DLR is to be expanded with Russian research institutions and create new opportunities for international exchange of knowledge."
According to Skoltech provost, Prof. Rupert Gerzer, "The agreement paves the way for direct cooperation – exchange of professors and teaching staff, and the opportunity for Skoltech students to go to study in the DRL. But the most important consequence of the implementation of this agreement will be directly involvement of Skoltech Space Center in experiments during real space missions."