First Deputy Chairman of the Executive Board of SberBank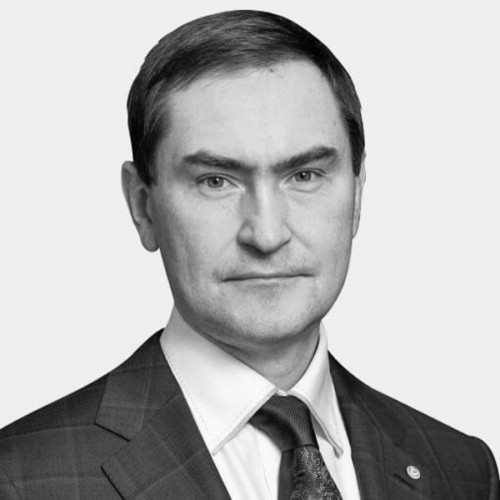 Alexander Vedyakhin was born on February 20, 1977 in Volgograd.
Education
In 1998, Alexander Vedyakhin graduated Volgograd State Technical University with honors (cum laude) degree in Economics. In 2001, he was awarded a degree of Candidate of Economic Sciences.
In 2010, completed the MBA Banks program in Bank Management at the Academy of National Economy under the Government of the Russian Federation.
In 2012, he completed the joint advanced training program of SberBank and the London Business School.
In 2016-2019, and 2021 he completed regular training programs at the Stanford Graduate School of Business.
In 2018,  completed the Artificial Intelligence and Advanced Machine Learning program at the Massachusetts Institute of Technology.
Professional experience
Between 1999 and 2008, Alexander was employed at Volgograd branch of SberBank of Russia, where he advanced from a senior cashier-controller to the deputy manager of the branch. In 2008-2012, he was the First Deputy Chairman of the Executive Board of SberBank in Ukraine.
In 2012-2015, Alexander served to the Executive Board and Chief Risk Officer (CRO) at DenizBank in Turkey.
In 2015-2018, he held the position of Senior Vice President of SberBank, CRO of Sberbank Group and Head of the Risk Block, oversaw Artificial Intelligence Laboratory and the Competence Development Center for Data Research.
Since June 2018 — member of the Executive Board, First Deputy Chairman of the Executive Board. Oversees sections related to retail business, corporate investments, wealth management, department on working with complex actives.
Heads and oversees Department of development of AI and machine learning, AI Laboratory, Direction for control and coordination of activities, Center for partnership financing and special projects, Direction for ESG.
Awards
In 2016, he was awarded the Medal of the Order of Merit for the Fatherland, II degree. In 2018, he received the Letter of Appreciation from the President of the Russian Federation, as well as Appreciation from the President of the Russian Federation. In 2021 he was awarded the Order of Alexander Nevsky.
He is a shareholder of SberBank: share of participation in the authorized capital - 0.000027%, share of owned ordinary shares - 0.000029%.
See also