Rector of the European University in Saint-Petersburg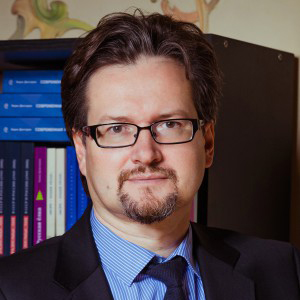 Professor of the department of political sciences and sociology.
Member of the Skoltech International Advisory Committee.
Research interests: political theory, classical republican tradition, pragmatic turn in social sciences.
Education: Professor Kharkhordin graduated from the Economics Department of Leningrad University and then studied in the postgraduate program of the Institute of World Economy and International Relations of the USSR Academy of Sciences, and in the doctoral program of the University of California, Berkeley (PhD, political science, 1996).
He then assumed the position of Junior Member of the Harvard Academy for International and Area Studies (1996-1998), and over the years has taught extensively as a visiting professor in the US (e.g. Yale, Political Science (Spring 2002),  and Harvard, Government  (2002-2003)) and in France at Sciences Po, Paris (2005, 2006, 2008).
As Chair of the Department of Political Science and Sociology of EUSP (1998-2001), he started IMARS (International MA in Russian Studies), a novel program for graduate students from Western Europe and North America.
Oleg has been a member of the Russian Presidential Council for Science and Education since 2012.
See also